Sep. 27, 2021
Pole top pins are the hardware accessory for all pole and overhead line needs. They are used to connect insulator pins. Before you decide to buy and use them, it is necessary that you understand these insulator fittings. That's where this guide makes a difference. With this guide, you will have all the information you need to realize the true value of using this guide.
After reading this guide you will know what a rod top pin is, why you need it, the manufacturing process, the installation process, and more. Read on for more information.
What is a rod top pin?
Pole top pins with their unique design are mostly used for installing cables and other hardware accessories on utility poles and overhead lines. These unique accessories are designed in a unique type to allow you to make the right decision.
The pole top pin slotted channel sections are mounted against the pole by 5/8-inch bolts. The design of the pole top pin is to allow easy removal for the replacement of insulator units or insulator fittings without the necessity to remove the insulator strings from the cross arms. Taporellinefitting pole top pin has the length of 18'' and 20'', with 1''or 1-3/8'' lead thread. The straight base design has two mounting holes on the base.
You'll learn more as you read the guide.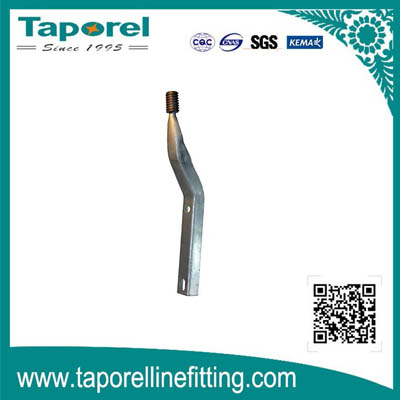 Insulator Pole Top Pin
Why do I need a pole top pin?
So, you now know what a pole top pin is. Nevertheless, you may not be sure why you need it. That's why I've provided detailed information on this section for your use.
Understanding this is the first step in the process of applying this hardware accessory.
Where do we use the pole top pin?
Pole top pins are used in conjunction with pin insulators, mainly for transmission lines, 11kv/33kv distribution lines, and overhead power lines. The pole top pin is made from hot new rolled steel. The steel will heat to red and be punched to the designed shape. The finish of the pole top pin is hot-dip galvanized which is reasonably smooth and free of burrs or other sharp projections.
What are the specific reasons for using pole top pins?
Pole top pins are used for smooth or easy removal when replacing insulator units or accessories without having to remove the insulator string from the cross arm.
You need a pole top pin to ensure that the string is not damaged during use, and attaching the insulator pins does not seem necessary. However, when you ask the experts, you will see how valuable they can be in pole and overhead line construction projects. If you find yourself needing to buy and install them, make sure you read the correct guide.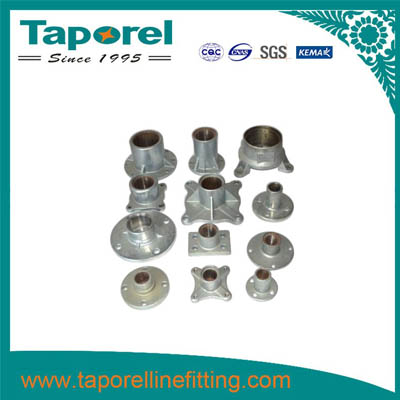 Post And Pin Insulator End Fitting
Pole top pin manufacturing process
I'm sure you do need or want information on the process of making pole top pins. If you do that great. There is nothing wrong with wanting to know this.
First, you need to know that pole top pin hardware is made from hot-rolled new steel.
The manufacturing process involves.
The process starts by heating the steel until it is very red.
After that, it is stamped to obtain the shape it has.
It is hot-dipped galvanised and has a very smooth surface with no burrs or sharp protrusions.
Knowing this helps you to get the right information when you need it.
Not all suppliers use the correct method to manufacture their pole top pins. This is why you need to choose the right manufacturer to ensure the quality of all your installations. If the pole top pin is not designed correctly, you will always have difficulty using it.
As a composite insulator fittings manufacturer, Taporel Electric produces all kinds of power fittings, including EYE and Clevis, ball and socket, hanging Ring, Y- head, T-head, steel foot, steel cap, flange, and other line accessories.
We manufacture more than 200 series and 1000 varieties, such as composite insulator fittings, power line fittings, sub-station fittings, power station fittings, and cable accessories, which have been exported to Europe, United States, and the Middle East for 10 years. Let us help you find the best composite insulator fittings for your project. When you contact us, please provide your detailed requirements. That will help us give you a valid quotation.